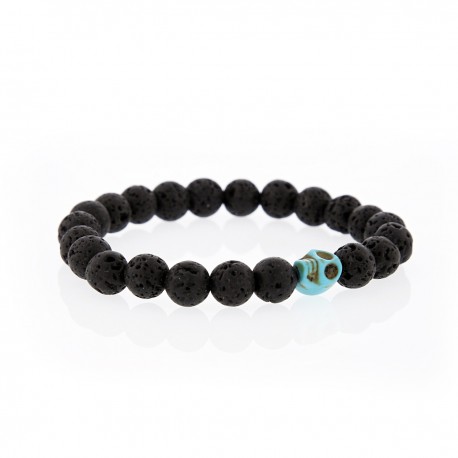  
Lucky Man lava stone and turquoise skullhead bracelet
Lucky Man lava stone and turquoise skullhead bracelet
Lava stone bracelet and turquoise skullhead.
The lava stone makes joyful and spontaneous. Helps to manage our anger in order to express it and to free ourselves from it. Pushes to the reflection and to the truth by exposing you without detours to your errors, blockings and weaknesses. Helps to know yourself, your shadow and light parts by integrating them. Acts against negativity. Makes you stronger in times of need.
Turquoise helps you to express yourself, absorbs bad energies as well as bad thoughts but it will take the hard knocks of life for you. Turquoise makes positive, and makes the temperament more serene.
Mounted on elastic.
Data sheet
Material

Lava stone bracelet
Turquoise ornamentation

Available sizes

18 cm, 19 cm, 20 cm or 21 cm
You might also like