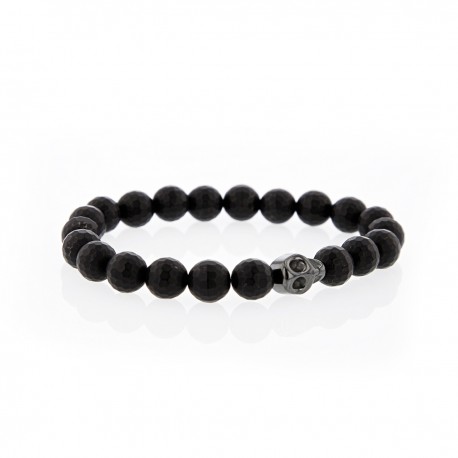  
Lucky Man bracelet faceted onyx and hematite skullhead
Lucky Man bracelet faceted onyx and hematite skullhead
Stone bracelet, faceted matte onyx and hematite skullhead loop.
Onyx anchors fickle people in a more stable lifestyle and helps with self-control. It gives strength and support in difficult situations and during times of immense mental or physical stress.
It helps to find a solution during an upheaval in one's life, whether positive or negative, and also helps to take control of one's future.
Hematite has many benefits on the psyche:
Gives energy and optimism
Favors listening to oneself and to others
Reinforces the conviction
Improves self-confidence, willpower and gives courage
Reduces shyness
Stimulates concentration and memory
Facilitates the study of technical subjects and mathematics
Helps to overcome addictions and compulsions (smoking, alcohol, bulimia...)
Reduces authoritarian and angry behavior
Soothes fears and promotes restful sleep
Mounted on elastic.
Data sheet
Material

Hematite ornamentation
Mat Onyx Bracelet

Available sizes

18 cm, 19 cm, 20 cm or 21 cm
You might also like