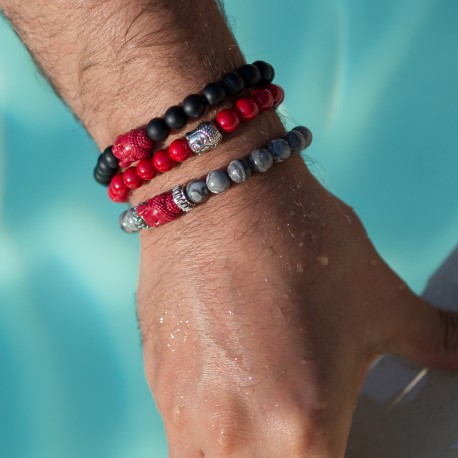  
Bracelet Buddha man in stone
Bracelet Buddha man in stone
Stone bracelet and Buddha loop.
Mounted on elastic.
Available in four sizes: 18 cm, 19 cm, 20 cm or 21 cm. and four variations :
- color 01 : red tinted jade and silver Buddha
- color 02 : onyx and Buddha in red resin
- color 03 : zebra jasper and red resin Buddha
- color 04 : zebra jasper and silver Buddha
The jade stone brings peace and softness, it calms the nerves. It favors meditation and helps to open the soul on the spiritual level. On the mental level, the jade stone calms the negative thoughts and the mind. It helps to harmonize the mind with the body.
On the emotional level, Jade makes dreams more intuitive. It helps to be less irritable. On the spiritual level, it brings about awakening.
Jasper soothes pain. It is said to be the remedy for stress because it brings peace of mind.
Onyx helps build self-esteem, confidence and self-control. It stabilizes the fickle and gives strength to cope with life's upheavals.
You might also like